Security agents shield Buhari, Abiodun from stoning during Ogun rally
Security operatives had to shield President Muhammadu Buhari as a projectile was thrown in the direction of the stage while he was addressing supporters of the All Progressives Congress (APC) at a campaign rally in Ogun State.
The president visited the state on Monday, February 11, 2019, as part of his re-election campaign just days to the February 16 presidential election. However, the president and his delegation faced a very unruly crowd that had opposing factions.
The Ogun chapter of the APC has been divided for months over its choice of governorship candidate as current governor,
Ibikunle Amosun
, has turned against the party for allegedly manipulating the process to hand its ticket to
Dapo Abiodun
.
The governor's preferred choice,
Adekunle Akinlade
, left the party to contest on the platform of the
Allied Peoples Movement (APM)
with the governor's very public backing.
The crowd booed the the party chairman,
Adams Oshiomhole
, and Minister of Transportation,
Rotimi Amaechi
, after they directed them to vote for Abiodun in the March 2 governorship election.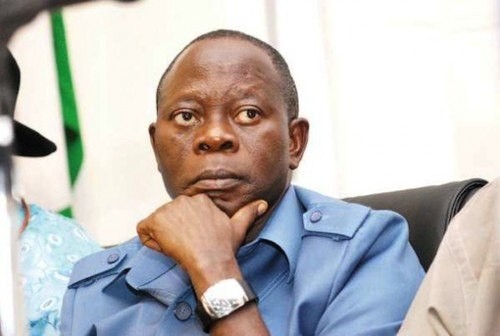 Oshiomhole's speech was brought to an abrupt end when a projectile was thrown towards him as the crowd chanted "Ole (Yoruba for 'thief') and "APC!".
When Buhari came onstage, he curiously told the party's supporters to vote for whomever they like in the general elections.
"I appeal to you to practice your civil rights to come out next Saturday and on the 2nd of March and choose whoever you like across the parties. This is your right and I have no problem about it," he said to cheers from the crowd.
However, when he raised Abiodun's hand as a sign of endorsement moments later, the crowd became unsettled again.
Security agents rushed to the stage to shield the president when what appeared to be a projectile went up in the air, and the rally was brought to an abrupt end.
The rally was generally plagued by violence as supporters of Abiodun and Akinlade openly clashed with security operatives struggling to contain the situation.
Security agents shield Buhari, Abiodun from stoning during Ogun rally
Reviewed by
opeyemi
on
5:43:00 am
Rating: