BBC camera operator is attacked at Trump rally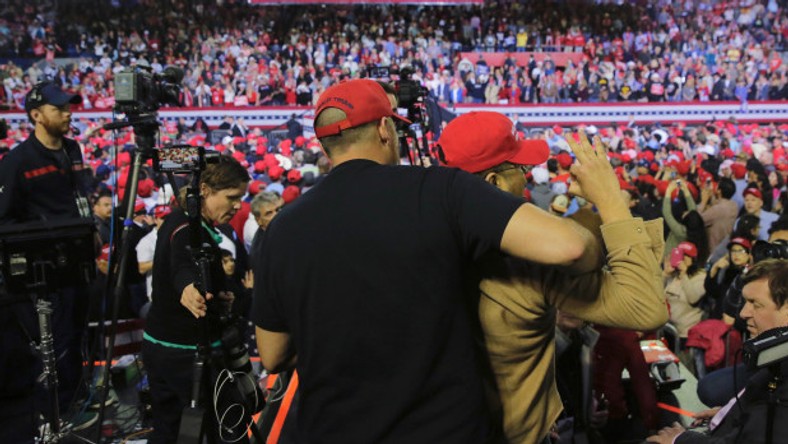 A supporter of President Donald Trump attacked a BBC camera operator during a presidential rally in El Paso, Texas, on Monday night, the broadcaster said.
"BBC cameraman Ron Skeans was violently pushed and shoved by a member of the crowd while covering a President Trump rally in Texas last night," a BBC spokesman said in an email Tuesday.
Trump was in El Paso to increase support for his proposed wall on the U.S. border with Mexico, in his most significant rally since his funding demands for the project temporarily shut down the government. The president was talking about a decline in attacks on African, Hispanic and Asian-Americans when the cameraman was pushed.
A 36-second clip from Skeans' camera before, during and after the shove was widely circulated on social media Tuesday. It shows a protester in a red Make America Great Again cap, who has not been publicly identified, shouting at members of the media as he is restrained by someone who appears to be part of the event's security team.
As the man struggles, the crowd's chant shifts from "U.S.A." to "Let him go."Gary O'Donoghue, the BBC Washington correspondent who covered the El Paso rally Monday, said the supporter had "tried to smash" the camera before security escorted him out of the venue.
The BBC condemned the attack. "It is clearly unacceptable for any of our staff to be attacked for doing their job," the statement Tuesday said. The president could see what was happening and checked "that all was OK," the statement added.
On Tuesday afternoon, Sarah Huckabee Sanders, the White House press secretary, released a statement that said President Trump "condemns all acts of violence against any individual or group of people — including members of the press."
Trump has repeatedly called journalists "the enemy of the people."
In August, experts from the United Nations and a human rights body condemned the president's attacks on the news media and warned that they could incite violence against journalists.
"His attacks are strategic, designed to undermine confidence in reporting and raise doubts about verifiable facts," David Kaye, the U.N. special rapporteur on freedom of expression, and Edison Lanza, who holds the same position at the Inter-American Commission on Human Rights, said in a statement.
Skeans told the BBC that he "didn't know what was going on" when he was violently shoved Monday, but that he was now fine.
BBC camera operator is attacked at Trump rally
Reviewed by
opeyemi
on
6:34:00 pm
Rating: