Trump Organization will use system to verify workers' documentation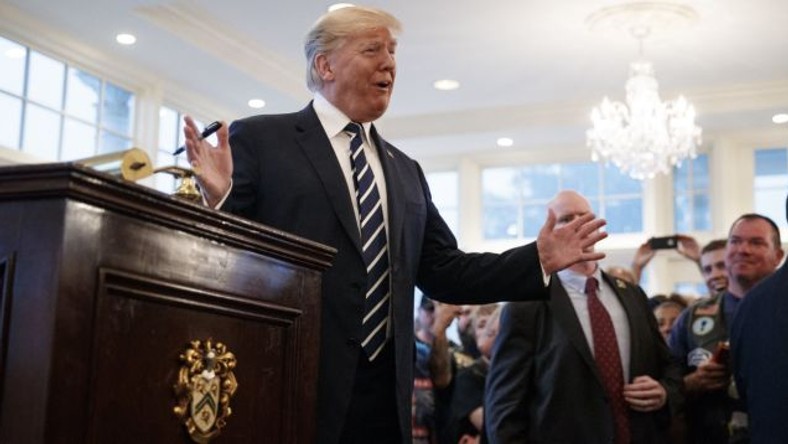 The Trump Organization said late Tuesday that it was implementing a system to weed out unauthorized immigrants who try to get jobs at its properties. The move followed reports in The New York Times last month that the president's company was employing people at its flagship golf club in New Jersey who were in the country illegally.
The company will institute E-Verify at any property not already using it, Eric Trump, an executive vice president of The Trump Organization, said in a statement.
Thousands of employers have enrolled voluntarily in the government's E-Verify electronic system, which checks documents provided by new hires against Social Security Administration and Department of Homeland Security records. A mismatch suggests that the person is unauthorized to work.
All federal contractors must use E-Verify, and 22 states require at least some private and public employers to do so. The federal E-Verify database suggestedthat the Trump Organization did not use heightened employment document verification procedures at several of its properties, meaning that the chances of employing undocumented workers was high.
The New York Times reported in December that undocumented immigrants had been employed for years at the Trump National Golf Club in Bedminster, New Jersey, as housekeepers, landscapers and kitchen staff.
They were kept on the payroll despite the fact that management was aware that they had used phony documents to secure employment.Since the articles were published, about a dozen workers deemed ineligible to work in the United States because they lacked legal immigration status have been terminated at the Bedminster club, according to people familiar with the matter.
Another dozen were fired at the Trump National Golf Club in Westchester this month, a development first reported by the Washington Post.
"I must say, for me personally, this whole thing is truly heartbreaking," Eric Trump said in the statement. "Our employees are like family but when presented with fake documents, an employer has little choice."
President Donald Trump has made border security and protecting jobs for Americans cornerstones of his presidency, from the border wall he has pledged to build to the workplace raids and payroll audits that his administration has carried out.
Trump Organization will use system to verify workers' documentation
Reviewed by
opeyemi
on
5:06:00 am
Rating: